---
Gotham City Publicist In The Hollywoods
Enjoys Ongoing Success With Film And Music Entities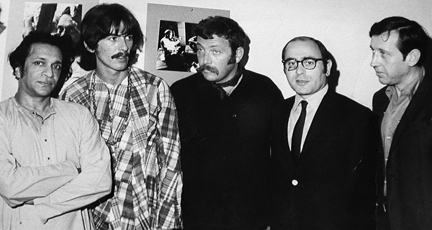 Ravi, Sir George, unknown concert impresario, World Pacific promoter Macey Lipman, Press Conference maestro NW
By Huntley Haverstock
Special to The Royal Gazette
In early 2004, BBC-TV opted to produce three one-hour news documentaries focusing on Elton John, Michael Jackson, and U2's Bono, to beam at year's end. Multiple camera crews crossed the Pond to knock on the door of tinsel-town public relations executive Norman Winter, once assured by producer Sarah Hey that his former clients would not become subjects of tell-all smearfests. The founder and prime mover of Norman Winter/Associates (NW/A) played a major role in the careers of both Elton and Michael, boosting each to stratospheric success. Two out of three segments ain't bad when you're talking about a triumvirate of icons that helped define the last thirty years of popular music. But there's more — much more — and the road to Winter's present is paved with success stories large and small.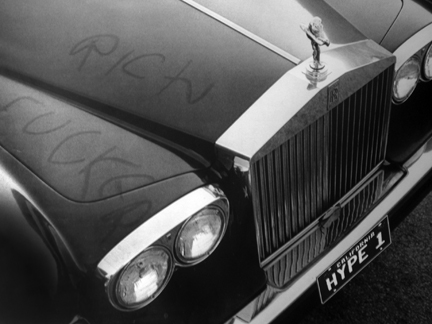 ---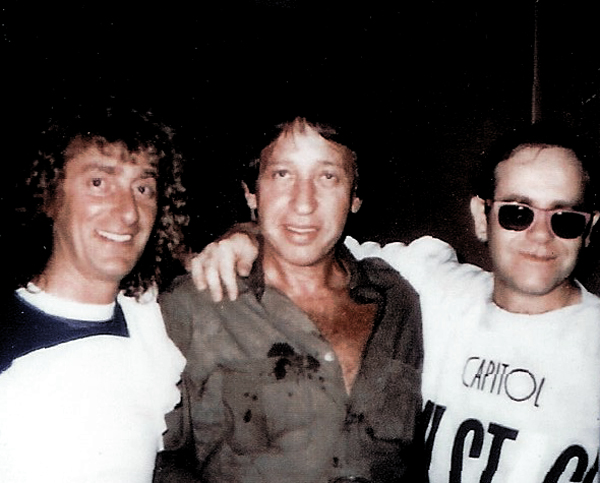 Bassist Dee Murray, Da Man, Reginald Dwight
The beginning
Norman Winter, heeding the old adage "go west, young man," initially headed from New York to Hollywood as a teen fanzine photographer. Lee Zhito, former Editor-in-Chief and Publisher of Billboard, advised he'd make a "terrific" music publicist so Norm, trading on his caption writing skills and gift of gab, tossed his hat into PR. A year or so later Norman became a sought-after executive, eventually retained as MCA/Universal Records' publicity chief. There he enjoyed notable successes including the launch of Jesus Christ Superstar, the album, and the American debut of Elton John, whose start in the UK had led nowhere fast. These were stunning publicity achievements in every sense of the word. The groundbreaking rock opera's 1970 intro was an unusual assignment that led to a decades-long franchise built around the funkified story of Jesus and that catapulted Andrew Lloyd Webber and Tim Rice to their own superstardom. Elton John, co-writing with lyricist Bernie Taupin, was also an oddity. A classically trained pianist, Elton brought to the States the manic spirit of an outrageous Looney Toon at his Troubadour bow.
Based on his past success and on the heels of a series of further PR coups, Winter agreed to jump ship to establish his own diverse indie PR/Marketing firm. He opened shop as chief tubthumper for his rising superstar, (Elton) and — at the request of Universal Pictures President, Ned Tanen — Norman Jewison's acclaimed film version of Jesus Christ Superstar.
The office soon sought and grabbed other reel entities, including the soundtrack music for American Graffiti. Collaboration with British actress Joan Collins, aggressively touting the wickedness she projected on the prime time soap, Dynasty, ultimately won her a Golden Globe award. When music and motion pictures wed, NW/A was already a key player in the genre. An ongoing relationship with the superstar producing team of Kenny 'Babyface' Edmonds and LA Reid led to a new consultancy with 'Face' to herald his auspicious bow into celluloid for Waiting To Exhale — a strong film that yielded a blockbuster CD.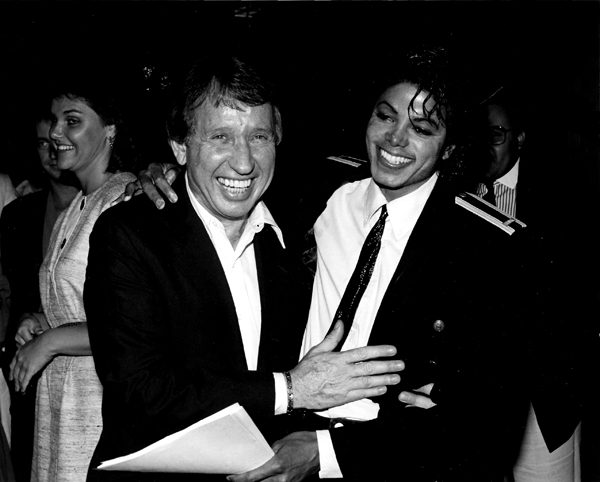 The dude on the left was blushing when Michael entered the room. Norm: "Mike, you look f***in' great!"
The King of Pop instantly countered, "YOU USED THE F-WORD!" Norm turned beet red within minutes and got a chuckle from the performer
...enter Wally's World...and MJ, too
Norm was retained by CBS Records Group (Columbia, Epic) for some six years, reporting exclusively to then-chairman Walter Yetnikoff. A close confidant to the industry's 'king of the grooves,' Winter spearheaded special projects on behalf of major artists, including Michael Jackson, with whom he would develop a long term relationship. Although Jackson's initial solo disc Off the Wall went multiple platinum, the artist justifiably felt that he was not gaining appropriate publicity saturation. Yetnikoff assigned Winter to the task. The association prospered and evolved into a long-term arrangement (with Jackson picking up the tab), highlighted by Thriller, dubbed by The Guinness Book Of World Records as the biggest-selling album in history! The legendary Victory Tour, Jackson's acquisition of the Beatles' catalog and his lucrative Pepsi endorsement were other milestones during that period. Norm joined Michael at the White House, where Ronald Reagan honored the star for allowing "Beat It" to be performed on a public-service TV spot against drunk driving. Coordinating media, Norm also wrote text for the President's speech. The event marked the first time that MTV News had gained press credentials to attend a Rose Garden reception. The music station's John Sykes (now chairman of VH1) strongly recalls their warm welcome. When Yetnikoff broached the idea of selling CBS Records Division to Sony Corp., Norman attended Hawaiian confabs between Yetnikoff and Norio Ohga, firm's President's/CEO, that ultimately brought about the CBS Group's acquisition by the Japanese.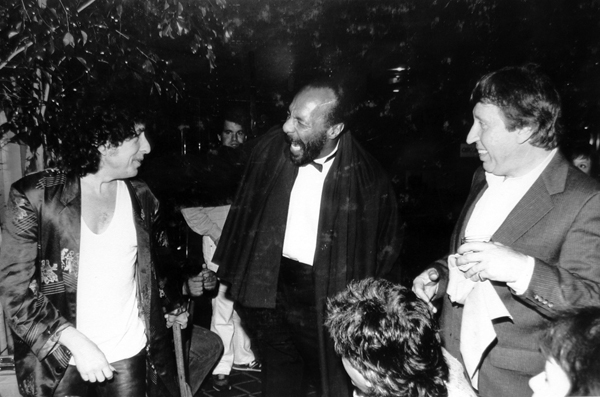 Norm surprises Bob Dylan by bringing Richie Havens to Chasens' ASCAP fête. They busked songs.
Icons galore
As a member of the Honorary Advisory Committee of the Palm Springs International Film Festival, Winter worked fêtes for screen legends Marcello Mastroianni, Sophia Loren, and Tony Curtis. NW/A also helmed indie PR for the American Society of Composers, Authors, and Publishers (ASCAP) for its annual Pop, Motion Picture/TV, and R&B Music Awards presentations as well as annual events honoring such luminaries as Bob Dylan, Smokey Robinson, Dick Clark, George Michael, Jimmy Jam & Terry Lewis, Fred Astaire and Quincy Jones.
Through the years, NW/A has represented scores of entertainment personalities, including Neil Diamond, Bob Dylan, Billy Joel, Queen, Rick James, Lynyrd Skynyrd, The Who, AC/DC, Johnny Rivers, the Jefferson Airplane's Marty Balin, Donny Osmond, Meat Loaf, Garth Brooks, Herb Alpert, Paul Anka, Phil Ramone, James Brown, Jimmy Jam & Terry Lewis, Jimmy Cliff, Steve Martin, Arsenio Hall, and gospel luminaries Jennifer Knapp and multiple-Grammy-winner Deniece Williams. Limited special projects have also added to NW/A's roster of clients, including Brian McKnight, Outkast, and Usher.
Among NW/A's roster of corporate clients have been Virgin Records (Noo Trybe), The Scotch Magnetic Tape Division of 3M, The Lincoln Mint, ASCAP, Warner/Chappell, CBS Songs, and Windswept Pacific Holdings. Billboard Publications selected the office to publicize the magazine's International Music Industry Conferences (IMIC) in Washington, DC, Venice, and Monte Carlo. Billboard also retained NW/A to publicize their annual song contest.
In addition to presiding over the legendary Victory Tour for Michael, NW/A has coordinated concert gigs for such artists as Neil Diamond, AC/DC, Barry White, Bob Dylan/Tom Petty, a four-year series of huge outings for Elton John, the national club MTV caravan, and Marvin Gaye's final concert tour, "Sexual Healing."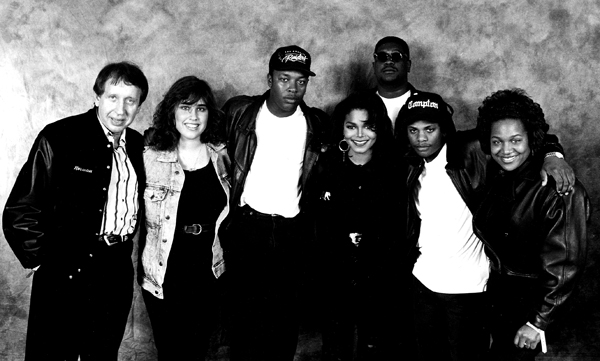 The gang's all here, including Jennifer Winter, Dre, Janet, Eazy, and Michel'le
Rap, hip-hop, and more
The PR firm has delivered both traditional and 'street' press for 'bad boy' performers like NWA's late Eazy-E, Dr Dre and Bangin' On Wax (the Bloods & Crips collaboration), as well as Domino, Bone Thugs - N - Harmony and Eddie Griffin. Of Eazy-E, Norm recalls, "it was easy to like Eazy. Even though I'd joined the Death Row label following a tenure with Eazy's Ruthless Records and enjoyed rapport with Suge Knight and Dr. Dre, when Eazy (Eric Wright) was in ICU at Cedars Sinai his lady, Tomica, asked me to handle media as he lay dying from AIDS." Winter graciously accepted, then handled a serious outpouring from fans at First AME 's memorial service. Coincident with the explosion of the Latin Music Industry, NW/A has periodically taken on projects for such notables as Emmanuel, Lucia Mendez, Chichi Peralta, and The Golden Eagle Awards, among others.
In the book field, NW/A introduced Fit for Life, a nutritional health bible, that emerged as the top-selling general interest book of all time, holding the top spot on The New York Times bestseller list for more than a year.
Further broadening the organization's portfolio, NW/A began serving the lodgings industry when Wayne Newton — whose patronage of the firm extended across several other newsworthy events — acquired the Aladdin Hotel in Las Vegas. Performers who graced the Aladdin's main stage for its gala reopening included Tanya Tucker, Glen Campbell, and Frank Sinatra. A few years back, when the Riviera launched the long-lost Marilyn Monroe collection, NW/A delivered vast TV and print coverage for the long gone icon's new clothing line. The hotel's convention facility was filled to capacity with a special New Year's package that revolved around a week long showing of newly discovered Marilyn art, attracting major players and celebrities to the casino. — H.H.
---
---
e-mail Norman Winter